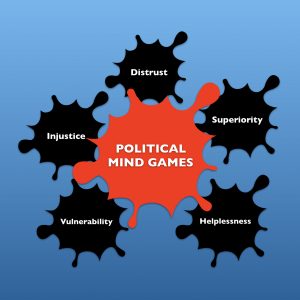 "It was miraculous. It was almost no trick at all, he saw, to turn vice into virtue and slander into truth, impotence into abstinence, arrogance into humility, plunder into philanthropy, thievery into honor, blasphemy into wisdom, brutality into patriotism, and sadism into justice. Anybody could do it; it required no brains at all. It merely required no character." — Joseph Heller, Catch-22
Manipulating Our Core Concerns
While millions of Americans grasp for lifelines amid the unforgiving currents of extreme inequality, multi-millionaires and billionaires comfortably ride the waves and add to their enormous wealth and power. The contrast is jarring to be sure, but it persists nonetheless because self-interested representatives of the 1% have become masters at using manipulative psychological appeals — I call them "mind games" — to defuse and misdirect our outrage. And when they succeed, we regrettably lose our bearings about what's happening, what's right, what's possible, and what we must do.
Exploring this phenomenon as a psychologist, my research has led me to a focus on five concerns that are particularly influential in our daily lives: namely, issues of vulnerability, injustice, distrust, superiority and helplessness. Each is associated with a basic question we routinely ask ourselves: Are we safe? Are we treated fairly? Who should we trust? Are we good enough? Can we control what happens to us?
For multiple reasons, these concerns are especially important in this context. First, singly and in combination, they're essential lenses through which we personally interpret events, evaluate our circumstances, and decide what actions, if any, to take. Second, these five concerns extend from individuals to groups; as a result, they're relevant in a very wide range of settings: our interpersonal relationships, family relationships, work relationships, community relationships, and political relationships in local, national, and international spheres. Third, these same concerns have the potential to undermine our capacity for careful and critical thinking because they're frequently linked to hard-to-control emotions, including fear, anger, suspicion, contempt, and despair.