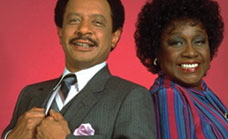 In the mid-1970s the TV sitcom The Jeffersons portrayed the rags-to-riches story of a black entrepreneur living the American Dream. The pugnacious and overbearing George Jefferson (former neighbor of All in the Family's Archie Bunker) becomes a dry cleaning magnate and leaves blue-collar Queens for swanky Manhattan. As the show's theme song recounts:
"Well we're moving on up,
To the east side.
To a deluxe apartment in the sky.
Moving on up,
To the east side.
We finally got a piece of the pie."
But now fast-forward to 2007 and real world America. When it comes to those deluxe apartments in the sky, today's exclusive penthouses sit atop much taller high-rises–but the chances of ever living in one (or even breathing its rarified air as a dinner guest) have shrunk considerably. And although the proverbial economic pie is much larger today as well, a relative handful of gluttons are gorging themselves while everyone else settles for leftovers and crumbs.
Continue reading "Sky Dwellers, Pie Eaters, and Their Political Enablers: Faithful Defenders of the Status Quo"