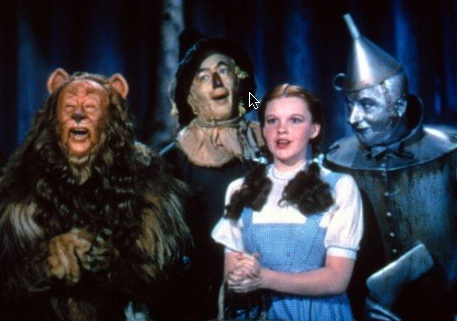 There are so many instructive comparisons between the film classic The Wizard of Oz and the presidency of George W Bush that it's hard to settle on just one. Here's a particular angle that I think deserves more attention.
Through memorable characters and adventures, The Wizard of Oz reminds us that too often we underestimate ourselves and fail to realize that we already possess the very qualities and virtues to which we aspire. The Scarecrow travels the Yellow Brick Road in the hope of obtaining a brain; at journey's end he comes to realize that he had one all along. Similarly, the Tin Man wishes for a heart but ultimately learns that he was a compassionate woodsman from the start. And the Cowardly Lion heads to the Emerald City in pursuit of courage–yet he demonstrates his considerable valor along the way. All told, it's an uplifting tale of unpresumptuous, accidental heroes who rise to the occasion in the face of adversity.
But now try to imagine an altered script, an upside-down Oz where the key players, rather than underestimating themselves, instead make outrageous and false claims (to themselves and to others) about their intelligence, compassion, and courage. And also try to imagine that over the course of their own harrowing journey these travelers learn…well, absolutely nothing. Of course, sadly this re-write doesn't require much of an imagination at all. This is the Oz rendition that's been playing in Washington and around the world since Bush, Cheney, and their neocon entourage took center stage. Although many examples are available, let's focus on the Iraq War alone.
Continue reading "Desperately Needed: A Scarecrow, Tin Man, and Cowardly Lion"